LNWI

 LocoNet WiFi Interface
The LNWI allows you to connect compatible WiFi devices to LocoNet and run trains using compatible throttle apps. The apps available can be downloaded from this page.
Estimated Dispatcher Price $82.80 CDN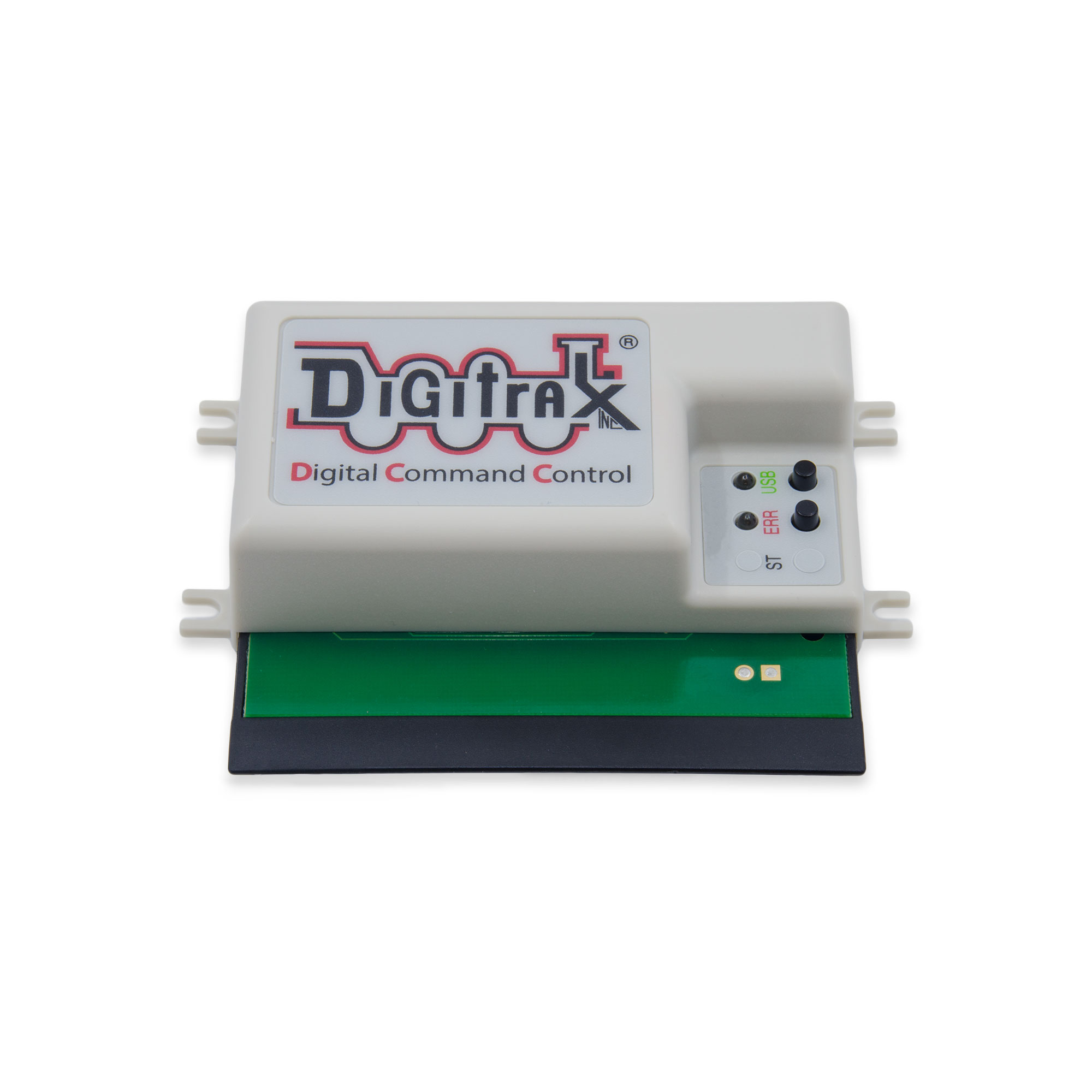 AR1

Automatic Reverse Controller-Single

The easiest most cost effective way to add automatic reversing to one section of your DCC layout.

Estimated Dispatcher Price $34.00 CDN
---
Booster Terminal Plug
Gray Replacement Terminal Plug for lost or damaged plugs on Digitrax Command Stations and Boosters
This item is a replacement part that can be ordered through your dealer.  Digitrax does not repair this item or sell it directly to end users.
Estimated Dispatcher Price $6.00 CDN
---
Digitrax Throttle Battery Cover Replacement
Replacement for current model throttle battery compartment covers
Estimated Dispatcher Price $13.50 CDN
---
BDL168

LocoNet Occupancy Detector, 16 Detection Sections

The BDL168 is a cost effective LocoNet Occupancy Detector for 16 detection sections.

Lets you know when detection sections of your layout are occupied.

When used in conjunction with one or two RX4 transponder detectors it operates up to 8 transponding zones and operations mode read back.

Know what is where on your layout!

BDL History:  BDL16 was released in 2000 and was replaced by BDL162 in 2002.  An update kit was available from BDL16 to BDL162.  BDL162 was replaced by BDL168 in 2004.  No update kit was offerred because the circuit board was completely re-engineered.

Estimated Dispatcher Price $178.50 CDN
---
PM42

Quad Power Manager

Get the benefits of short circuit management and auto reversing without adding more boosters!

PM42 Quad Power Manager lets you use a single booster and divide its output into 4 power sub-districts for automatic reversing or to improve operation by preempting booster shutdown when a short circuit is detected by the PM42.

If you want to improve operation but don't need the added power (or expense) of adding a booster, the PM42 is the right answer for you.

Each PM42 can run 4 sub-districts off a single booster in any combination of regular sub-districts and auto reversing sub-districts.

Estimated Dispatcher Price $95.50 CDN
---
 Card Edge Connector, 44

 pin, 3 Pack

3 Pack Edge Connector for use with PM4 Series Boards, BDL16 Series Boards and SE8 Series Boards

This is a replacement part that can be ordered through your dealer.  Digitrax does not repair this item or sell directly to end users.

Estimated Dispatcher Price $11.50 CDN
---
LNCCMC1

Coiled Cord & RJ12 Modular Adapter

Add a coiled cord to your LocoNet Throttle without soldering!

Just plug the modular adapter provided on to your existing Throttle plug and add the coiled cord.

Estimated Dispatcher Price $19.05 CDN
---
DS64

Quad Stationary Decoder

The DS64 Stationary Decoder allows you to install and operate your turnouts directly through any DCC system that has turnout control.

The DS64 works with a wide selection of hardware. From solenoid turnout machines to slow motion motors, the DS64 hasn't met a turnout it doesn't like.

This affordable, easy to install decoder will add another dimension to your operations.

 Estimated Dispatcher Price $63.00 CDN