The amazing RRampMeter designed for Model Railroaders by DCC Specialties does what no other meter can do!
Easy walk-around measurements of layout voltage drops, accurate booster output setup to optimum voltages for decoders and sound units.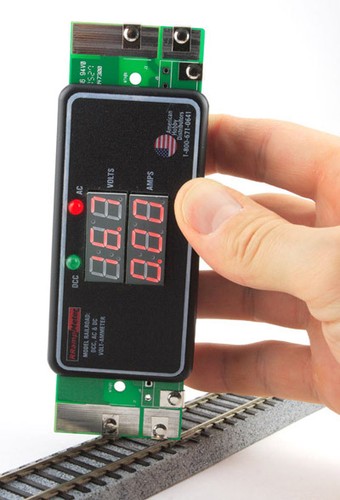 The only inexpensive device that accurately measures DCC Volts/Amps.
Also measures AC and DC Volts/Amps.
Costs less than DVMs that cannot measure DCC. Ver I, II, & III rated at 10 Amps and Ver IV rated at 20 Amps.
Measures true RMS Volts/Amps, +/- 2%.
Suitable for all scales.
No batteries required.
Designed for Left/Right-hand use.
PCB length 5.63″; Enclosure length 4″, width 2″, height 1.25″
3 Styles Available:
Dispatcher's Price: 
Version I, one in stock for $85.85 CDN
Version II, one in stock for $117.00 CDN
---
DCC Specialties PSX-1 Circuit Breaker
Dispatcher's Price; One in stock for $55.45 CDN each
---
DCC Specialties PSX-AR Power Shield Auto Reverser / Circuit Breaker
Dispatcher's Price; $74.95
---
DCC Specialties OnGuard! OG-AR Auto Reverser & Circuit Breaker

Dispatcher's Price; 3 in stock for $49.00 each
---
Hare™ New Generation DCC Stationary Decoder
Version V2 (List $29.95 US)
Dispatcher's Price $42.20 CDN
Plugs Directly on to Tortoise™: Simplifies wiring and reduces failures.
Auto Return: Automatically returns the points after a preset interval for any operational event.
Auto Throw™ Automatically throws points when a train is approaching against the points!
Auto Throw™ Timer: Provides for timing the auto throw function to prevent two trains from colliding.
Smart Route™ Sets up to 13 routes by simple address programming in addition to the primary decoder address.
Dispatcher Over-Ride™: Allows the Dispatcher to lock out all other switch commands.
Lock Block Protection: Overrides the Hare's operation if a designated block is occupied.
Locked Route Control™: Provides for only one route direction response for either a Throw or Clear command.
Switch Speed Control™: Allows you to control the Tortoise™ motor speed.
Smart Default Ops™: Upon Power-up, HARES return to either last thrown position or a programmed default.
Operate Switch Signals or Panel LED Indicators.
Manual Pushbutton or Toggle Switch: Allows single button or toggle switch manual control of the points.
System Reset: A single CV command sets all Addresses and CVs to original factory values.
Direct Current Ops: The Hare will operate on DC using Manual Push Button Control Option.
Semaphore Operations: Allows the use of a Tortoise™ for triggered control of a signal head or crossing gate.
Automates Reverse Loop Turnouts. Using Auto Throw feature.
Version II (List $34.95)
Dispatcher's Price $41.00 CDN
All of the features above plus feedback
Feedback, Turnout Position Reporting to Digitrax LocoNet, Lenz ExpressNet and NCE CabBus.
---
---